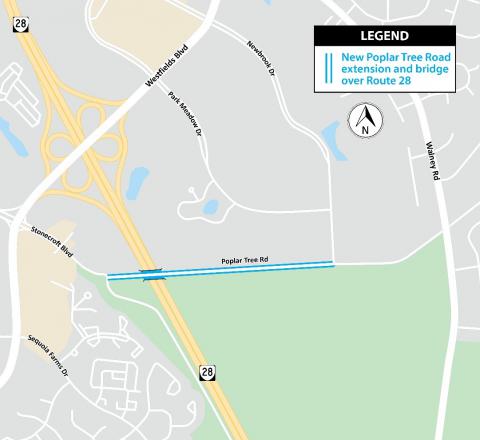 The newly opened Poplar Tree Road extension and bridge over Route 28 is making access to Ellanor C. Lawrence Park easier than ever.
This extension allows for bicycle and walking access to the internal trail system within the park for people living on the western side of Route 28. Park Manager John Shafer said, "The community has been asking for this access for the last 10 years, and it is now available by using the mix-use path on the north side of Poplar Tree Road until the crossing at the Poplar Tree and Walney Road traffic light. This road provides direct access to the park's active recreation complex and play structures for the neighborhoods to the east of the park."
The new bridge and park access road are among several recent Virginia Department of Transportation Route 28 improvements that are part of the Transform 66 Outside the Beltway Project.
Ellanor C. Lawrence Park is located at 5040 Walney Road, Chantilly, Virginia. For more information, call 703-631-0013; or visit Ellanor C. Lawrence Park.
For more information, contact the Public Information Office at 703-324-8662 or at parkmail@fairfaxcounty.gov.