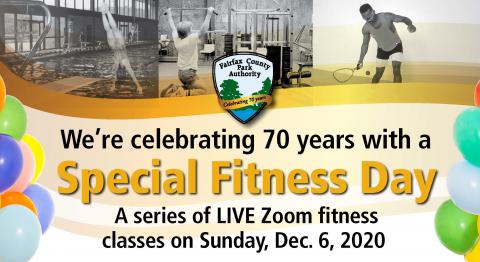 Enjoy a free workout with a "70" theme and join in the fun as the Fairfax County Park Authority celebrates its 70th anniversary on Dec. 6, 2020. All the workouts will be broadcast live via Zoom from Spring Hill RECenter.
Start your day at 7 a.m. with 90 minutes of "Sun Salutations with the Sunrise." During class, complete 70 sun salutations of varying difficulties. The program will be hosted by Hannah Hutton.
At 8:30 a.m., grab your legwarmers or disco clothes and flash back to the 1970s with a 55-minute "Cardio Party through the Decades." Liz Ittner will be your Zoom host as instructor Kristen Pierce incorporates the "70" theme into your workout.
Focus on building muscles at 10 a.m. with the "Strong for 70" exercise class. Complete 70 reps of each exercise as Liz Ittner again plays host and instructor Laurie Strickland leads you through these fitness challenges.
Since it's a day of celebration for the Park Authority, look for special surprises, such as trivia, polls and prize giveaways.
You can find links to register for any or all of these fitness events on the Park Authority's 70th anniversary website.
For more information, contact the Public Information Office at 703-324-8662 or at parkmail@fairfaxcounty.gov.