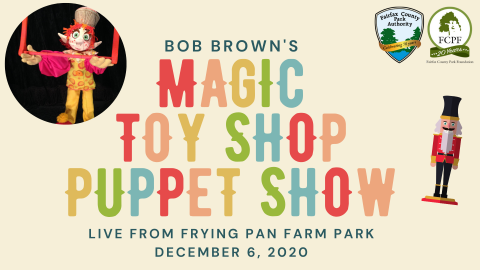 The Fairfax County Park Authority is celebrating its 70th Anniversary on Dec. 6, 2020 with a special "thank you" gift for the kids of all ages who have enjoyed county parks for the past seven decades.
Enjoy a little bit of magic with Bob Brown's Magic Toyshop Puppet Show, live from Frying Pan Farm Park. The popular children's entertainer will be bringing his merry marionettes to life in a show that will be available on Zoom at 10 a.m. on Dec. 6. Meet Ted E. Bear, Carl and his incredible Crayola Calliope, and extraordinary juggler Jack.
If you would like to join the fun, pre-register for the event here.
This special performance is being sponsored by the Fairfax County Park Authority Board and the Fairfax County Park Foundation. You can find more information on other 70th anniversary events and programs at the park's 70th anniversary website.
For more information, contact the Public Information Office at 703-324-8662, or at parkmail@fairfaxcounty.gov.