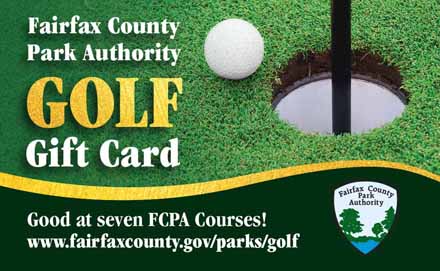 Golf has been growing in popularity as a safe way to enjoy the outdoors while having fun and getting fit. If you have a new golfer in the family, or a game veteran, tuck a Golf Fairfax gift card in their stocking or put a bow on some new equipment for them this holiday season.
Golf Gift Cards can be purchased at all of the county's golf courses and pro shops in amounts starting as low as $25. Buy them at the Burke Lake Golf Center, Greendale Golf Course, Jefferson District Golf Course, Laurel Hill Golf Club, Oak Marr Golf Complex, Pinecrest Golf Course and Twin Lakes Golf Course. They can be used for greens fees, buckets of balls at a driving range, food and beverages, private lessons, or items from the course pro shops.
At the pro shops, look for seasonal specials on name-brand sports apparel for men and women, as well as golf clubs, shoes, balls, sunglasses and other essentials. The Laurel Hill Golf Club is even offering virtual pro shop tours and curbside pickup service.
For more information, contact the Public Information Office at 703-324-8662, or at parkmail@fairfaxcounty.gov.