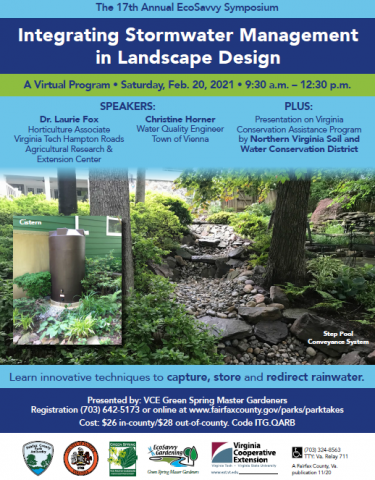 Join us for the 17th annual and first virtual EcoSavvy Symposium on stormwater management. Are you experiencing landscape issues due to water runoff from powerful rainstorms and overflowing gutters? Do you have patches of standing water in corners of your yard? This year's symposium, "Integrating Stormwater Management in Landscape Design," will show you innovative techniques to capture, store and redirect rainwater. Experts in stormwater management will provide answers to your questions and resources for managing the water on your property.
This accessible event, delivered virtually on Zoom, is presented by the VCE Green Spring Master Gardeners, and runs from 9:30 a.m. to 12:30 p.m. on Saturday, Feb. 20, 2021. The cost is $26 in-county/$28 our-of-county per person. To register, go to Parktakes Online and search for code ITG.QARB, or call 703-642-5173.
Register for EcoSavvy Symposium
Green Spring Gardens is located at 4603 Green Spring Road, Alexandria, Virginia. While the grounds are open, the facility is currently closed. For more information, call 703-642-5173; or visit Green Spring Gardens.