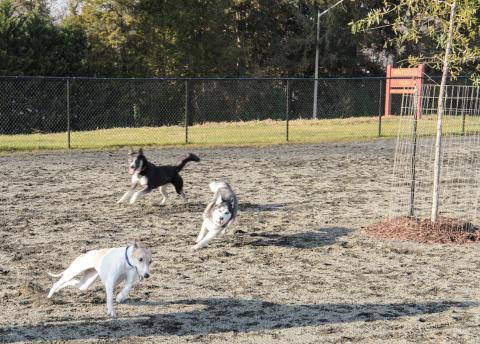 Four of the Fairfax County Park Authority's off-leash dog parks are among the region's best, according to readers of Northern Virginia magazine.
The Baron Cameron, Blake Lane, Mason District and Monticello dog parks made it onto the list of "10 Best Dog Parks in Northern Virginia 2020," published in the magazine's October issue. The Park Authority welcomes leashed dogs in all its parks, but dogs can run free and socialize with other dogs and people at 11 designated fence-enclosed areas throughout the county.
The Baron Cameron dog park is located at 11300 Baron Cameron Ave. in Reston and can accommodate 28 large dogs and seven small dogs in separate areas. Blake Lane's dog park has room for 25 dogs at 10033 Blake Lane in Oakton. Mason District can accommodate 62 dogs at the intersection of Alpine Drive and Pinecrest Parkway in Annandale. Monticello Park offers spaces for 32 large dogs and nine small dogs to romp at 5315 Guinea Road in Burke.
The Park Authority has conducted an in-depth study of dog parks in Fairfax County. Study results and public outreach to present the findings are planned for the beginning of 2021. Please check the study website for updates.
Details about all of the county's off-leash dog parks, including locations and operating hours, can be found on the Off-Leash Dog Parks website. For more information, contact the Public Information Office at 703-324-8662 or at parkmail@fairfaxcounty.gov.