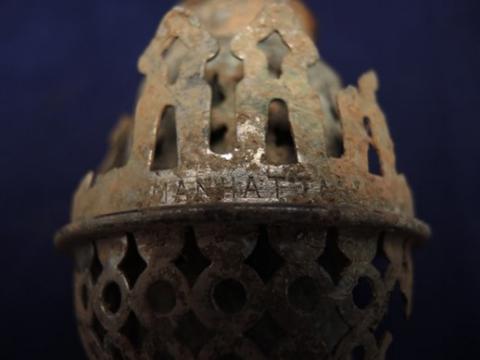 Bringing light to long, dark winter nights wasn't always as easy as flipping a light switch. This month, the artiFACTS website focuses on a discovery at historic Ash Grove that sheds light on how earlier residents of Fairfax County found ways to see in the darkness.
Two pieces of a lamp from the 1800s are helping Park Authority archaeologists learn about the lives of those who once inhabited Ash Grove. See these early lighting elements by going to the artiFACTS website and ask yourself if you would have figured how to use them. Dig even deeper at the FCPA Archaeology Blog.
The Park Authority's collections include more than 5,000 historic objects, such as quilts, chairs, baskets, machines, and clothing; thousands of archival items, such as photographs, letters, maps and other documents; and upward of 3 million artifacts that include archaeological finds, such as spear points and pottery. All come with their own stories to tell. artiFACTS allows us to showcase a small sampling of these treasures to educate, enlighten and entertain.
For more information about the Park Authority's Museum Collections, contact Heritage Resource Specialist Megan Leining at 703-631-1429 or at megan.leining@fairfaxcounty.gov.