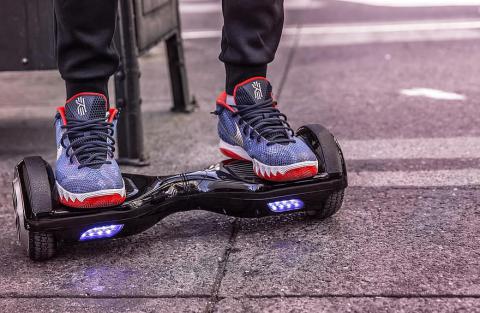 If this holiday season brought you a new puppy, an e-bike for personal transportation, or other new toys, we hope you bring them out and safely enjoy the amenities in Fairfax County Parks. The following tips will help you familiarize yourself with the rules to ensure safe recreational opportunities for all park visitors:
E-bikes, e-scooters and e-skateboards are allowed in parks but to protect environmental and cultural resources, they should operate only in areas where traditional (human pedal powered only) bicycles are allowed. Do not disturb wildlife, livestock or domesticated animals on park property. In consideration of trail conditions and the safety of others, maintain speeds under 20 miles per hour. For details, visit Electrically Assisted Bicycles and Other Conveyances.
Use of drones is allowed in compliance with Federal Aviation Administration directives. Many parks are in no-fly zones due to proximity to airports, etc. Find out all the rules and regulations you must follow to use drones safely and responsibly in parks at Model Aircrafts and Drones.
Try out your new golf clubs at a county golf course. Projectiles are prohibited. Unless you're in a special archery program, bows and arrows should be left at home. That goes for stun guns, spears, slingshots, dart devices and other high-speed missile projectiles, too.
If you're camping and preparing food, knives are permitted, however, knives with a blade more than 4 inches in length should remain at home.
Metal detectors may only be used with the FCPA's express written permission.
Got a new puppy? Remember to keep your furry friend on a leash, wait until they are at least 4 months old (and not in heat) before visiting a dog park.
New pony? There are plenty of equestrian trails and riding areas designated for equestrian use.
Feel free to try out the new fishing rod in compliance with Virginia Department of Game and Inland Fisheries' laws and park rules.
Take your new skates for a spin at the Mount Vernon ice rink, and stay off lakes, ponds, and streams in parks, which may not be frozen. Keep skis on established trails, walkways, and roadways. Similarly, sleds, tubes and skis are not permitted on golf courses.
Enjoy your new ear buds, and if you want to play something loud enough for everyone to hear, make sure to obtain written permission from the Park Authority.
Camping overnight in your new tent? Make plans to register and stay in designated campgrounds.
For more information, please contact the Public Information Office at 703-324-8662.