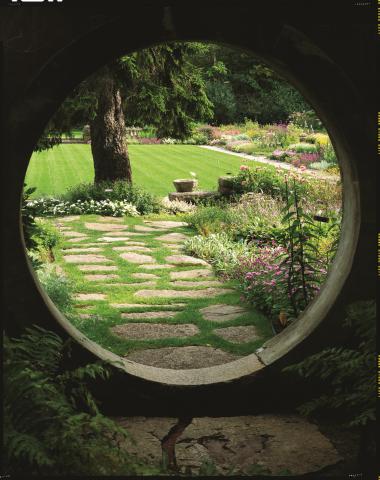 Green Spring Gardens' popular Winter Lecture Series returns in January in a virtual format, so even more people can benefit from this expert advice on everything from Moon Gates to environmentally friendly gardening. Sign up for one or all four of the lectures to be ready when your green thumb starts to twitch in the spring.
Historian Debbie Waugh starts things off on Sunday, Jan. 17, 2021, with "Moon Gates-The Power of Circles." Waugh will reveal the ancient origins of the moon gate in Chinese gardens and the value of this striking architectural feature today. Learn how to incorporate one into your home landscape and hear about Green Spring's 50th anniversary Moon Gate Garden Project.
On Sunday, Jan. 24, 2021, tune in for a lecture on "Sizzling Succulents." Garden professional Brie Arthur shares growing and propagation advice about her favorite tender and hardy succulents. Learn creative combinations for year-round interest and new introductions for cold hardiness. Sizzling Succulents will encourage you to indulge in this sustainable growing trend. 
Register for Sizzling Succulents
Get "Eight Essential Tips for a Deer-Resistant Garden" on Sunday, Jan. 31, 2021, and start enjoying more of what you grow. Deer can turn a vibrant garden into a sea of chomped stems and damaged trees. Designer Karen Chapman offers eight key solutions that go beyond pungent chemicals and unattractive fencing. 
Register for Deer-Resistant Garden
On Sunday, Feb. 21, 2021, tune into "Doug Tallamy and Nature's Best Hope" and learn how ineffective our current landscape designs have been at sustaining the plants and animals that sustain us. Doug Tallamy discusses simple steps that we can take to reverse declining biodiversity and explains why we, ourselves, are nature's best hope.
Register for Nature's Best Hope
All of the lectures run from 1:30 to 2:30 p.m. and are designed for participants age 16 to adult. The cost of each program is $10 per person. These virtual programs will be conducted via Microsoft Teams or Zoom. A link will be emailed to registered participants before the program. 
Green Spring Gardens is located at 4603 Green Spring Road, Alexandria, Virginia. For more information, call 703-642-5173; or visit Green Spring Gardens.