The Fairfax County Park Authority Board recognized the 60th anniversary of Frying Pan Farm Park at its meeting on Wednesday, Sept. 22, 2021. The Park Board recalled the highlights of the past six decades in a resolution presented to the park's manager and the president of the Friends of Frying Pan Farm Park.
Park Authority Board Chair Bill Bouie (left) congratulates Friends of Frying Pan Farm Park President Jack Pitzer (center) and Park Manager Nicole Mitchell (right) after presentation of a resolution honoring the site's 60th anniversary.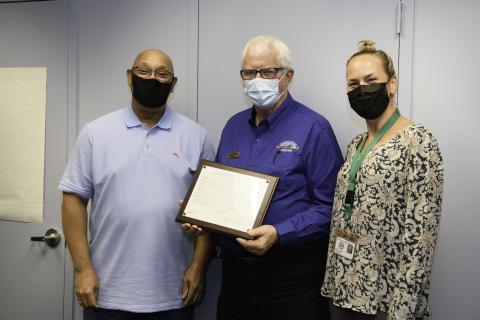 2021 marks the 60th anniversary of Frying Pan Farm Park becoming a Fairfax County Park Authority site. Over the years, lots of people have asked where the name "Frying Pan" originated from, but we don't know for sure. The name first appeared in a 1728 deed from Lord Fairfax, when Robert "King" Carter bought the land to build a copper mine.
In 1960, the Fairfax County School Board gave the Floris school house and property to the Fairfax County Park Authority. And in 1961, Frying Pan Park was created. Five years later, the Park Authority Board bought 37 acres of the Kidwell Farm property to establish a working farm. Establishment of this site was directly linked to the disappearance of community farms in Fairfax County, as the suburbs and the development of Dulles International Airport changed the community. A movement of sorts took root in Herndon to preserve farm life for educational and historical purposes.
Since then, the farm has been thriving with all manner of attractions that draw record crowds. From equestrian events to history, county fairs to a country store, hiking trails and lots of hands-on farm activities, and even a historic carousel and playground, Frying Pan Farm Park has something for everyone.
On Saturday, Oct. 16, 2021, Frying Pan celebrates its 60th anniversary with food trucks, farm demonstrations, fun photo ops, a tractor parade, a scavenger hunt and more! Join us for this event between 10 a.m. to 4 p.m. There's no admission fee! The celebration is sponsored in part and supported by the Fairfax County Park Foundation.
For more information visit Frying Pan Farm Park.
Media Note: Click on the photo above to enlarge.