Volunteers gathered across the nation to celebrate National Public Lands Day on Saturday, Sept. 25, 2021. Locally, volunteers spent time weeding, watering pollinator gardens, picking up trash and removing nonnative plants at Laurel Hill Park in Lorton. Officials and volunteers spoke to the virtues of the effort to protect and manage open space and to the importance of connecting to nature. Among the speakers were Mount Vernon District Supervisor Dan Storck, Fairfax County Board of Supervisors; Park Authority Executive Director Jai Cole; Julie Tahan, Park Authority Community Support Specialist; and Susan Laume, Laurel Hill Park Volunteer Team (PVT) Leader and VA Master Naturalist.
The workday and celebration represent the nation's largest single-day volunteer event for public lands. Established in 1994 and held annually on the fourth Saturday in September, this celebration brings out thousands of volunteers to help restore and improve public lands around the country.
Pictured at work are (from left): Fairfax County Park Foundation Executive Director Roberta Longworth, Park Authority Executive Director Jai Cole, PVT Team Leader Susan Laume and Volunteer Blake Cambey.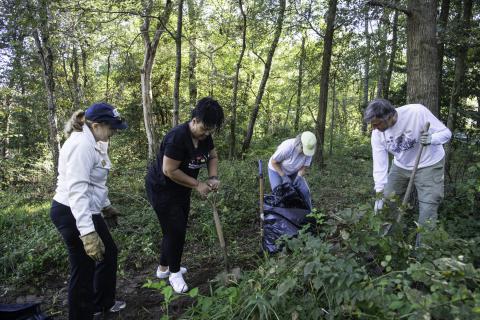 The event was livestreamed and can be viewed below:
Media Note: Download the photos at the Park Authority's National Public Lands Day Flickr page.