The Fairfax County Park Authority, in collaboration with the Fairfax County Board of Supervisors and McLean Youth Soccer Association (MYS), held a ribbon-cutting ceremony to mark the grand opening of Holladay Field in McLean, Virginia. The celebration was held on Saturday, Oct. 30, 2021.
This is a unique project with several key partners, each instrumental in helping to make this project possible and providing funding for this synthetic turf field conversion. Funding for the $1.56 million project came through voter-approved Park Bonds, as well as contributions from MYS, the Embassy and Ambassador Yousef Al Otaiba of the United Arab Emirates, and Roger Krone, CEO of Leidos. Private contributions tallied $725,000.
The project included the design of a full-sized rectangular soccer field with options to use the field for football, men's lacrosse, women's lacrosse, field hockey and mini soccer. The project also included landscape improvement, two underground stormwater management facilities, a bleacher pad, and access trail. The MYS also donated a bench to honor the Embassy of the United Arab Emirates and Leidos for their very generous donation that helped build the field.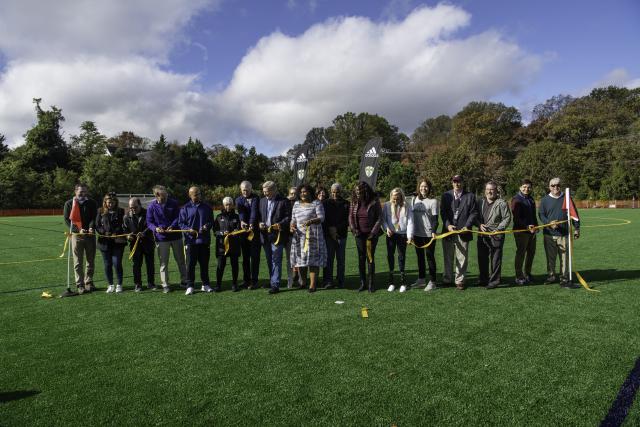 Pictured from left to right: Ian Harper, MYS Board member; Dima Alfaham, Chief of Staff to Ambassador Al Otaiba; Keith Tabatznik, former Georgetown University men's soccer coach; Roger Krone, CEO, Leidos; Ambassador Yousef Al Otaiba, United Arab Emirates; Louise Waxler, MYS Executive Director; Tim Hackman, Dranesville District Representative Park Authority Board; Dranesville District Supervisor John Foust, Fairfax County Board of Supervisors; Jai Cole, FCPA Executive Director, Aimee Vosper, FCPA Deputy Director; Som Govender, FCPA Project Manager; Benita Fitzgerald Mosley, Olympic Gold Medalist; Jessica Long, Paralympic Gold Medalist; Nancy McGuire Choi, MYS Board Member; Paul Shirey, FCPA Project Management Branch Manager; Andrew Miller, FCPA Building Branch Manager; Chris Rodriguez, MYS Board member; and Dr. Matthew Shank, MYS Board member.
Media Note: Click on the photo to download.
See all event photos at the Park Authority's Flickr page.