On Tuesday, Nov. 30, 2021, the Fairfax County Park Foundation (FCPF) presented representatives from Northrop Grumman with a Virginia Recreational & Park Society (VRPS) 2021 award for Distinguished Private Sector Service. Northrop Grumman was named a winner on Oct. 26, 2021, during the VRPS' Annual Conference in Harrisonburg, Virginia.
Since 2001, Northrop Grumman has provided generous funding totaling more than $169,000 to support environmental education in Fairfax County parks. Much of the funding supported the Meaningful Watershed Environmental Education (MWEE) programs at Hidden Oaks Nature Center, which engage fourth and seventh grade students in hands-on, educational field trips focusing on the importance of the Chesapeake Bay Watershed. In 2020, when COVID-19 shuttered schools and parks, the aerospace and defense company allowed Hidden Oaks to modify its in-person, hands-on MWEE field trips and use the $10,000 donation to provide Science Educational Support stewardship education field trips via short videos to county elementary and middle school students. The videos, in English and Spanish, taught students about oceans, stream monitoring, phases of the moon, turtles and other environmental topics.
VRPS is a private, nonprofit professional organization founded in 1953. Its purpose is to unite all professionals, students and interested lay persons engaged in the field of recreation, parks and other leisure services in Virginia into one body. Members work together to promote and improve the profession in all its diversity. VRPS is affiliated with the National Recreation and Park Association.
FCPF serves as the fundraising arm to help Fairfax County Park Authority parks and programs by raising private funds, obtaining grants and creating partnerships that supplement tax dollars to meet our community's needs for park land, facilities and services.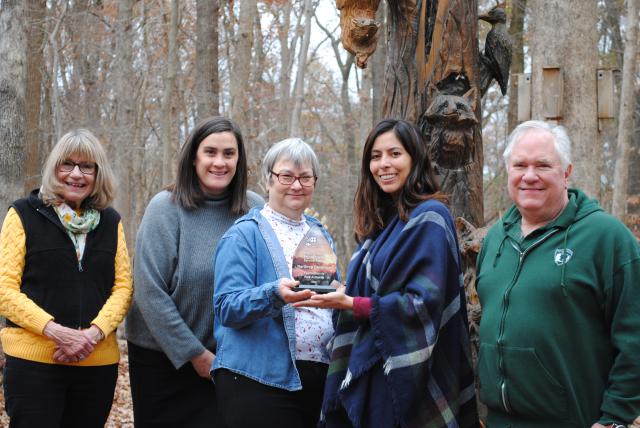 Pictured from left to right: Margaret Thaxton, Fairfax County Park Foundation Director of Development; Matia Wilson, Northrop Grumman Corporate Citizenship Representative; Suzanne Holland, Hidden Oaks Nature Center Visitors Center Manager; Melissa Teresinski. Northrop Grumman Environmental Sustainability Manager and Michael McDonnell, Hidden Oaks Nature Center Manager.
Media Note: Click on the photo to download.