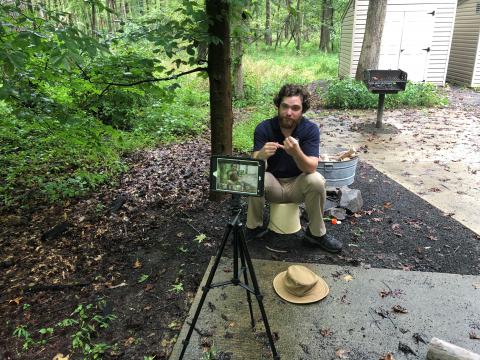 Let the kids enjoy the wonders of winter without bundling them up in their coats. Huntley Meadows Park naturalists are offering two virtual nature series to keep children moving and engaged this season from the comfort of home.
The "Animal Detectives Virtual Club-Winter" will teach children age 4 to 6 years old about their wildlife neighbors and the special characteristics that allow them to survive the chilly winter season.
Sessions will include movement, stories, songs, crafts and other activities. There are two sessions. One class will meet on Tuesdays from 11 to 11:45 a.m. from Jan. 19 to Feb. 23, 2021. The other class will meet on Thursdays from 1:30 to 2:15 p.m. from Jan. 21 to Feb. 25, 2021. Both sessions cost $50 with a supply kit fee of $10.
Register for Animal Detectives
Older children age 6 to 12 years old can join the "Nature Explorers Virtual Club" to discover the physical and behavioral adaptations that give animals their best chance at survival. Participants will also delve into the skills humans use to stay safe in the wilderness. Naturalist leaders will facilitate games to engage the imagination, spark creativity, and get your child moving and learning.
Again, there are two sessions. One meets on Mondays from 10 to 11 a.m. from Jan. 18 to March 8. The other session meets on Fridays from 2 to 3 p.m. from Jan. 22 to March 12, 2021. Both sessions cost $64 with a supply kit fee of $10.
Program activity kits can be picked up at Huntley Meadows Park before the start of the program.
Huntley Meadows Park is located at 3701 Lockheed Blvd., Alexandria Virginia. For more information, call 703-768-2525; or visit Huntley Meadows Park.