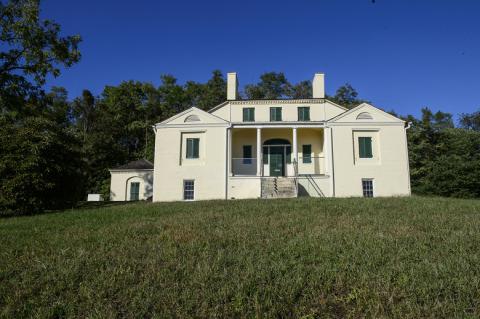 Historic Huntley will be open for two very different tours on Friday, Jan. 15, 2021. Discover the beauty and historic legacy of this home during an outing with the kids or during an evening for adults only.
First up is the "Family Hilltop Outing" designed for visitors age 5 to adult. On this family-friendly tour of the hilltop home, hop back in time to discover life in days past. Find out the significance of this villa to one of our founding fathers and challenge yourself to hold a block of ice with just one finger. Use historical tools, such as ice tongs, and see if you can master old-fashioned children's games. The program runs from 2:30 to 3:30 p.m., and the cost is $8 per person. Children must be accompanied by a registered adult.
Register for Family Hilltop Outing
Later in the afternoon, adults are invited to a "Twilight Hilltop Tour." Historic Huntley sits high up-on a hill overlooking Hybla Valley and Huntley Meadows Park, and the dramatic setting is made all the more stunning by the setting sun. Come on this after-hours tour and see the house in a different light. Light refreshments will be served afterward. This program runs from 4:45 to 5:45 p.m. The cost is $8 per person. Please dress appropriately for the weather.
Register for Twilight Hilltop Tour
Historic Huntley is located at 6918 Harrison Lane, Alexandria, Virginia, near the entrance to Hunt-ley Meadows Park. For more information, call the park at 703-768-2525; or visit Historic Huntley.