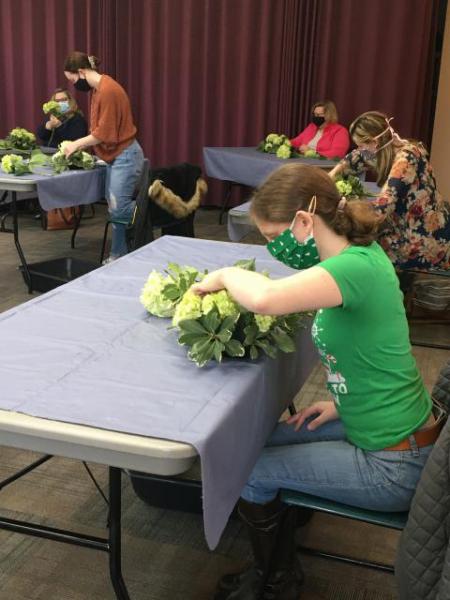 Bring some color and a touch of nature into your home all winter long with monthly floral design workshops at Green Spring Gardens. Certified floral designer Betty Ann Galway will lead seasonal workshops during the winter months with in-person and virtual options.
On Saturday, Feb. 13, 2021, celebrate love in all its splendid forms with the "Flower Design Workshop: Heart's Desire." Create a floral project that you are sure to love. Keep it for yourself or give it to someone that you care about. Currently, this program is only being offered in-person.
Register for Flower Design Workshop: Heart's Desire
Turn your eyes toward spring on Saturday, March 13, with the "Floral Design Workshop: Swing into Spring." Learn how to create a modern Hogarth curve floral design – a gentle curving design that leads your eye through the floral composition with graceful shapes. Attend in-person or virtually.
Register for Floral Design Workshop: Swing into Spring
The programs run from 1 to 2:30 p.m. and are designed primarily for adults. The Heart's Desire workshop is open to participants age 16 to adult. The cost of each session is $39 per person, plus a $30 supply fee, for those attending in person. Tables will be separated for social distancing and masks are required.
For participants who choose to attend virtually, the cost is $22 per person. A supply list and link to connect via Zoom will be emailed before the program. Virtual participants will have an opportunity to ask questions.
Green Spring Gardens is located at 4603 Green Spring Road, Alexandria, Virginia. For more information, call 703-642-5173; or visit Green Spring Gardens.