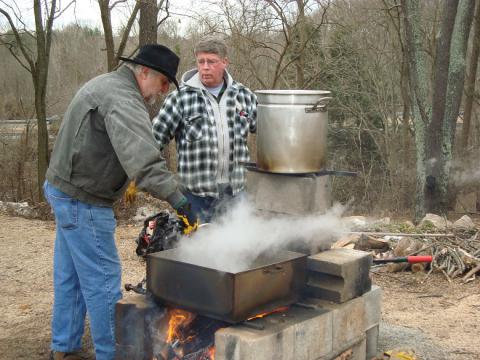 The sap is rising and the maple trees are being tapped. Try a tree-to-table delight at the annual "Maple Syrup Boil Down" at Colvin Run Mill.
It's sugaring time at the mill, so bundle up, brave the weather and watch and learn as sap is boiled down into a sweet syrup over an open fire. While supplies last, sample some of this delicious syrup over cornbread baked with cornmeal ground at Colvin Run.
Folks at Colvin Run will be cooking up syrup on two Saturdays on Feb. 20, and March 6, 2021. Sessions will run at 11 a.m., noon and 1 p.m. The cost is $8 per person, and the event is designed for participants age 3 to adult.
This program will be held outdoors, so please dress for the weather.
Register for Maple Syrup Boil Down
Colvin Run Mill is located at 10017 Colvin Run Road, Great Falls, Virginia. For more information, call 703-759-2771; or visit Colvin Run Mill.