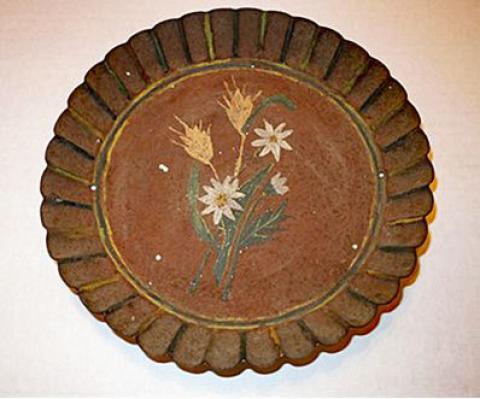 As the country gets ready to celebrate National Pie Day on Jan. 23, 2021, artiFACTS serves up a pie plate from the Park Authority's historical collections to reflect on the work of past artisans.
Visit artiFACTS this month to see how pie was served in the 18th century and learn about the craftsmanship involved in creating Toleware. Discover the work of "whitesmiths" and learn about the Lahey family's impact on Fairfax County history. Visit the Park Authority's arti-FACTS website to enjoy this slice of the past.
Each month, artiFACTS highlights an item from the Park Authority's vast collection of historic treasures. The collection includes more than 5,000 objects, such as quilts, chairs, baskets, ma-chines, and clothing; thousands of archival items, such as photographs, letters, maps and other documents; and upward of 3 million artifacts that include archaeological finds, such as spear points and pottery. From glass fragments, to clothing to furniture, the items tell the story of our region's past.
For more information about the Park Authority's Museum Collections, contact Heritage Resource Specialist Megan Leining at 703-631-1429 or at megan.leining@fairfaxcounty.gov.