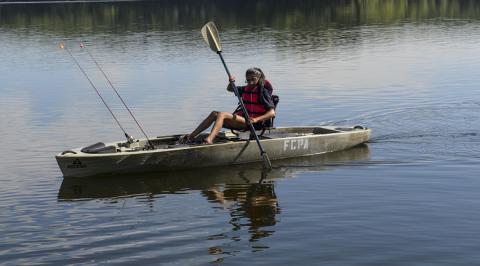 Spend a Sunday afternoon aboard a kayak in search of that perfect catch. Give kayak fishing a try at Royal Lake Park on Sunday, April 11, 2021.
Learn about the fish in local lakes and pick up tips on how to catch them safely and efficiently from a kayak. Kayaks and fishing gear will be provided. The "Kayak Fishing (12-Adult) by Vendor" program at Royal Lake Park runs from 1:30 to 5:30 p.m. The cost is $114 per person.
Register for Kayak Fishing at Royal Lake Park
Additional kayak fishing programs will be offered through June at other parks with small lakes, including Royal Lake, Lake Mercer and Huntsman Lake. Register through Parktakes online.
Register for Kayak Fishing Programs
Royal Lake Park is located at 5344 Gainsborough Drive, Fairfax, Virginia. For more information, call Lake Accotink Park at 703-569-3464; or visit Lake Accotink Park.