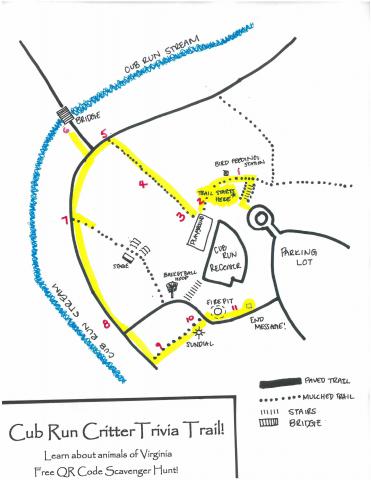 Turn your next walk in the woods into an exciting scavenger hunt on the parkland behind Cub Run RECenter. The new "Critter Trivia Trail" is a free, nature-themed scavenger hunt with video clues.
Learn about the animals of Virginia as you walk along the Cub Run Stream Valley. Use your smartphone to scan QR codes along the trail that link to a video about an animal. Then, try to answer a trivia question about the animal. Follow the clues on the video to find the correct answer in the woods. 
The Critter Trivia Trail has 11 stations along a one-way loop. The trail starts at the kiosk at the entrance circle to Cub Run RECenter, and markers guide you along the paved and mulched trail. The trail is less than one mile long and winds through the various habitats in the park. 
No entry pass is needed. The trail is free to enjoy. Parking is available at the Cub Run RECenter. 
Cub Run RECenter is located at 4630 Stonecroft Blvd., Chantilly, Virginia. For more information, call 703-817-9407; or visit Cub Run RECenter.