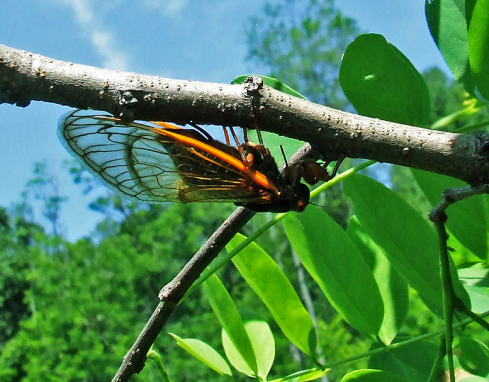 Suzi Cicada has been hanging out all by herself for the past 17 years, but she has a feeling that everything in her life is about to change. She has the urge to chart a new course and see what else the world has in store.
Follow Suzi's story over the next few weeks on the Park Authority's blog Our Stories and Perspectives. As real-life cicadas start to pop up in Fairfax County, read this fictional tale of a cicada that follows her instincts and crawls from her home underground to see the sun and trees.
Suzi's tale is written in chapter form and is full of information about the life of Brood X cicadas. It's a fun way to teach children (and adults) about this incredible 17-year phenomenon. The first chapter will be posted on Our Stories and Perspectives on Monday, May 3, 2021, and new installments will be added for the next 12 weekdays.
This story was created by the Park Authority's own Suzanne Holland, the Visitor Center Manager at Hidden Oaks Nature Center. The tale will satisfy everyone's curiosity about these noisy, red-eyed insects that will join us by the billions this year. Read it in your schoolroom or at home as a family.
Hidden Oaks Nature Center is located at 7701 Royce St., Annandale, Virginia. For more information, call 703-941-1065; or visit Hidden Oaks Nature Center.