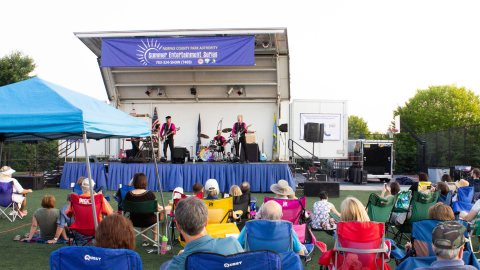 Get ready for great entertainment with the 2021 Summer Entertainment Series! Back in person this summer, the free performances and movies are possible thanks to a strong partnership between government, volunteers, business sponsors, individual donors and the Fairfax County Park Foundation.
With more than 130 live performances to choose from, the 2021 Summer Entertainment Series will offer something for everyone. Here are some of the most popular performances on the way.
If you love R&B classics, come out at 5:30 to 7 p.m. on Thursday, July 15, 2021, for the tribute music of Smokey Robinson, featuring lead vocalist SIXX. His ability to mimic the soulful voice of Smokey is superb. Enjoy the free performance as part of the Evenings on the Ellipse Concert Series, held at the Fairfax County Government Center located at 12000 Government Center Parkway, Fairfax, Virginia.
Come out to the Music at Arrowbrook Centre Concert Series for free family entertainment. On Saturday, July 17, 2021, from 7:30 until 9 p.m., experience Irish rock with Scythian. Washington D.C.-based Scythian began over 12 years ago as a bunch of college buddies playing Celtic music in the streets and has grown to be a headliner on the U.S. Celtic festival circuit, as well as a name in the Bluegrass/Americana festival circuit. They have played over 1,300 shows all over the U.S., Europe, Canada and as far away as Australia. Arrowbrook Centre Park is located at 2351 Field Point Road in Herndon, Virginia.
Most performances are held outdoors and are canceled in case of inclement weather. Call the HOTLINE at 703-324-SHOW (7469) one hour before the start of the show for updates. For details visit the Summer Entertainment Series website.