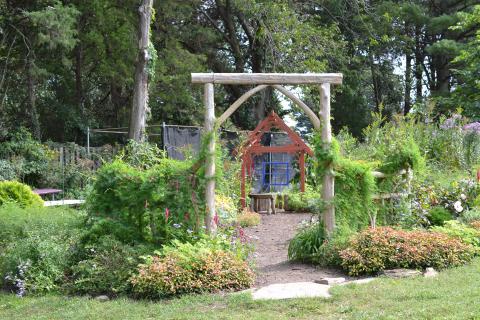 Get out of the house and outdoors with your youngster with a playgroup or storytelling program at Green Spring Gardens.
Come to Green Spring on Monday, Sept. 13, 2021, for the "Garden Sprouts Fall-Nature Playgroup." This playgroup is for parents and children age 3 to 5. From 10:30 a.m. to noon, your preschooler will enjoy nature-themed toys and puzzles, while you meet other playgroup parents. Activities may include games, songs and a garden walk to explore seasonal topics. This program will take place outdoors, weather permitting. The cost is $10 per person. 
Kick back on the lawn on Mondays, Sept. 13 and Sept. 27, 2021, for "Storytelling in the Garden." Bring a picnic blanket or just sit in the grass to hear a storyteller spin different tales. After the story, take some time to explore the Children's Garden or other themed gardens and ponds at Green Spring. The program runs from 9 to 9:45 a.m. for participants age 2 to adult. The cost is $5 per person. All attendees must be registered.
Register for Storytelling in the Garden
Green Spring Gardens is located at 4603 Green Spring Road, Alexandria, Virginia. For more information, call 703-642-5173; or visit Green Spring Gardens.