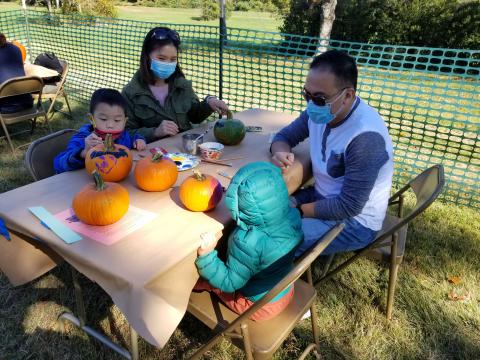 Fall is bursting with color! You can take some of those wonderful autumn hues home with you with our Colorful Pumpkins program at Sully Historic Site. Unleash your creative energy by giving your pumpkin a face or a colorful design of your choice! While you paint, learn the history of how pumpkins became associated with Halloween. Afterward, enjoy the fall weather while playing historic games on the lawn.
Colorful Pumpkins will be held on Saturday, Oct. 16, 2021. Sessions are available at 10 a.m., 11a.m., 1 p.m., 2 p.m. and 3 p.m. Each session is 45 minutes. The cost is $20 per family. Children must be accompanied by an adult. Advanced registration is required.
Tours of the 1794 house and accompanying outbuildings are available for an additional charge.
For more information or to preregister, visit Sully Historic Site or call 703-437-1794.
Register for Colorful Pumpkins
Sully Historic Site is located at 3650 Historic Sully Way, Chantilly, Virginia. For more information, visit Sully Historic Site, or call 703-437-1794.