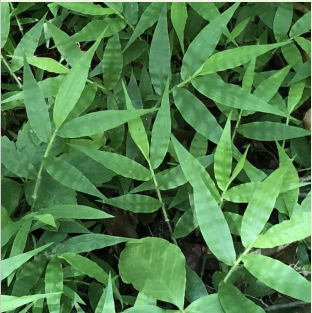 Fairfax County is facing an invasion from an aggressive plant species called wavyleaf basketgrass, and it's encouraging everyone to join the fight against it.
The scientific name for this invasive species is oplismenus undulatifolius, and it is quickly spreading through natural areas across the county. This grass has wavy leaf blades and grows low to the ground in shady areas. The stem of the plant and leaf sheath are hairy. Leaf blades are flat, measuring one-half to 1-inch wide and 4 inches long with rippling waves across the grass blades. In the late summer and fall months, the plant sprouts seed stalks with a sticky substance. These spikelets can adhere to clothing, boots and animals to spread the plant's seeds. Once wavyleaf basketgrass is established, it grows into dense carpets that crowd out other native plants, including shrub and tree seedlings.
If you see this plant in the woods, please submit a notification through the apps MAEDN (Mid-Atlantic Early Detection Network) or iNaturalist. If you see it in your yard, carefully pull the roots and bag the entire plant and include with your trash.
Please note that any invasive species should never be included with yard waste.
For more information or to volunteer to remove invasive plants, please go to the Fairfax County Park Authority's Invasive Management Area (IMA) webpage.