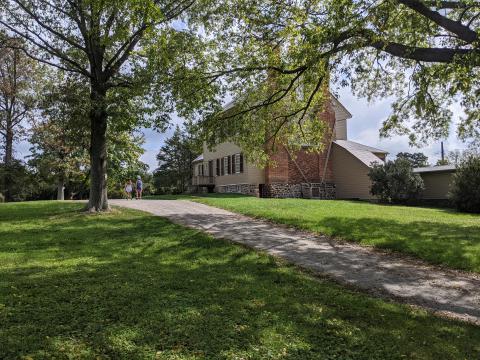 October is Walktober and there's no place like Sully to get all your steps in. It takes about 386 steps to get from the Visitor Center to the main house. How many will it take you? Find out while you explore the site and take in the fall colors.
The grounds also include an 18th century ornamental garden, where you can catch a glimpse of some of our pumpkins and gourds! Afterward, follow the road down to Cain's Branch Trail to check out our seasonal fall colors while you get your steps in.
Beyond our beautiful grounds, all the tours involve walking! Inside, trek up three flights as you learn about the history of the house and about the life of Richard Bland Lee, Northern Virginia's first congressman. Outside, take a Forgotten Road Tour, which explores the outbuildings and the lives and experiences of the enslaved people who lived at Sully; or take a Cain's Branch tour to learn more about the archaeological and local history of the site.
Tours of the 1794 house and accompanying outbuildings are available Thursday through Sunday. House tours are offered at 11a.m., 1 p.m. and 3 p.m.
Register for Historic House Tours
Forgotten Road Tours are offered at 2 p.m.
Register for Forgotten Road Tours
Cain's Branch Tours are offered every other Thursday at 11 a.m.
Register for Cain's Branch Tours
For more information or to preregister, visit Sully Historic Site or call 703-437-1794.
Sully Historic Site is located at 3650 Historic Sully Way, Chantilly, Virginia. For more information, go to Sully Historic Site; or call 703-437-1794.