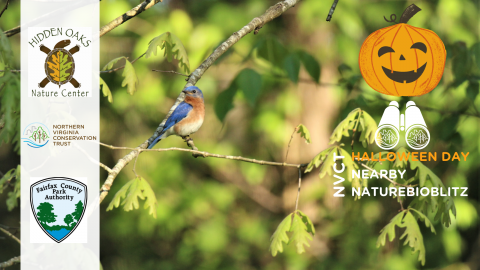 Hidden Oaks Nature Center and the Northern Virginia Conservation Trust (NVCT) invite individuals of all ages to participate in learning about the plants and animals in our parks, as well as meeting some live animals up close. On Oct. 31, 2021, from noon until 2 p.m., the public is welcome to visit the nature center to participate in a BioBlitz using the iNaturalist phone app. NVCT staff members will assist visitors participating in this local flora and fauna survey. Staff members will guide visitors in the use of this free app to post plants and animals found along the trails of Annandale Community Park.
Visitors are welcome to come into the classroom to see evidence of native animals including skulls, pelts and taxidermized specimens. At 12:30 p.m. and 1:30 p.m. enjoy a short, live animal outdoor presentation, including the corn snake, which looks like it is dressed for Halloween with its orange patterned scales! View other live animals in the nature center exhibit. Everyone is welcome to wear a costume.
No registration is required. There will be free goodie bags, without candy, available as supplies last.
Hidden Oaks Nature Center is located at 7701 Royce St. in Annandale, Virginia. For more information, call 703-941-1065; or visit Hidden Oaks Nature Center.