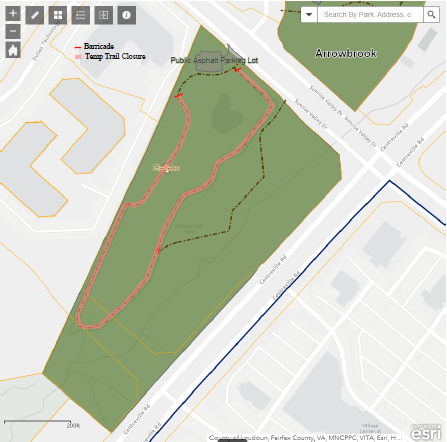 Lots of people have been asking what is happening at the pond and trail at Arrowbrook Park in Herndon. Currently the park is closed to accommodate construction on a road.
Stanley Martin Homes is developing a residential neighborhood on Dulles Technology Drive and has contracted with William A. Hazel Inc. to construct the extension of McNair Farms Drive. The project area is located southwest of the Centreville Road and Sunrise Valley Road intersection.
Extending McNair Farms Drive requires rehabilitating the pond in the Park Authority's Arrowbrook Park. In the interest of public safety, a portion of the existing trail network, pond boardwalk and gazebo area within the park is temporarily closed. Construction is expected to be completed in summer 2022.
For more information regarding the project and improvements, please contact Mike Ames, Director of Development, Stanley Martin Homes at 540-323-3318, or Robbie Clark, Wetland Studies and Solutions Inc. at 703-679-5631.