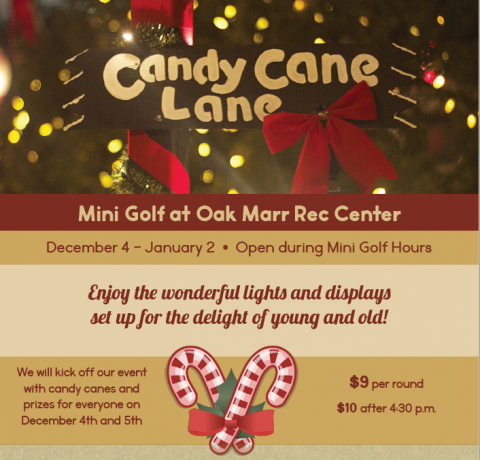 Oak Marr's Mini Golf Course is being transformed into a Candy Cane Lane for holidays!
The course will be decorated with a festive assortment of lights and holiday displays from Saturday, Dec. 4, 2021, through Sunday, Jan. 2, 2022. There will be candy canes and prizes for everyone during the opening weekend, Dec. 4 and 5.
Stop by during regular mini golf course hours to enjoy the display and play a round of mini golf. The cost is $9 per person before 4:30 p.m. and $10 per person from 4:30 p.m. until closing time.
The Oak Marr Mini Golf Course is located at 3200 Jermantown Road, Oakton, Virginia. For more in-formation, call 703-281-6501 or visit the Oak Marr Mini Golf website.