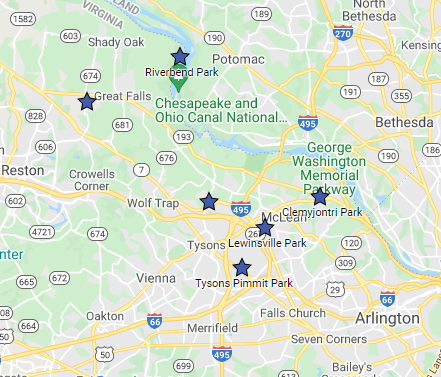 From Rec Center tune-ups to the opening of new playgrounds, get the latest on Park Authority projects by visiting the District Project Summary Reports website. It's been a time of great systemwide improvement with more to come this spring once cold weather passes.
In the third quarter of 2021 in the Braddock District, the lighting systems at the Wakefield Skate Park and the Wakefield tennis and pickleball courts were upgraded. A water treatment system at Audrey Moore Rec Center was updated to reduce the amount of chemicals needed in the pool.
In the Dranesville District, the Chandon Park playground was replaced with new equipment, and the trails and parking lot were improved to meet Americans with Disabilities Act standards. The existing grass field at Holladay Field Park was converted to a synthetic field.
Synthetic turf fields were given a lifecycle replacement at Oak Marr Park in the Providence District. Phase One work was completed on a bridge replacement along the Gerry Connolly Cross County Trail in Sally Ormsby Park, and Phase Two trail improvements were made.
In the Springfield supervisory district, maintenance work was wrapped up on the driving range deck at the Burke Lake Park driving range.
The District Project Summary Reports website is updated quarterly to let you know what work has been completed on Park Authority trails, athletic fields, playgrounds and other facilities. Search by supervisory district and click on the interactive maps to get project details, such as cost, financing, project manager, designer, contractor and completion date. See photos of the project and a capsule summary of the work that was done.
For more information, contact the Public Information Office at 703-324-8662 or at parkmail@fairfaxcounty.gov.