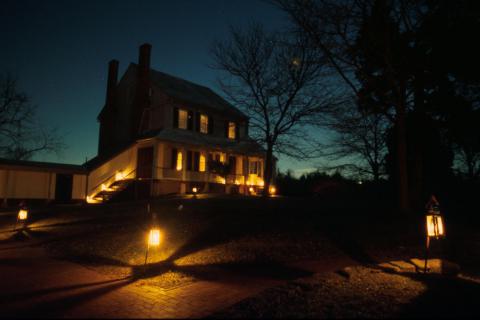 Enjoy an elegant, walk-through tour of Sully lit by the warmth of candlelight. The house will be decorated for the holidays in 18th century style. Visitors will see natural evening lighting and decorations the way families experienced it in the 1790s.
Learn about Richard Bland Lee, his family and the enslaved community who lived at Sully and how their work supported the house and farm in the early days of Sully's existence. After the tour, take your time to savor traditional ginger and sugar cookies, made by the Chantilly High School Cooking Academy, and fresh apple cider. Make a holiday craft to take home to deck your own halls. A special decorated tree, described by a visitor to Sully in 1885 will be featured.
Candlelight Tours are available on Saturday, Dec. 11 and Dec. 18, 2021 and run every 15 minutes from 4:45 p.m. to 7 p.m. The cost is $10 for adults and $8 for seniors, students and children ages 5 to15. Preregistration is required. Visit Sully Historic Site for more information and to preregister. Masks are required for inside the house museum for all participants.
Register for a Candlelight Tour
Sully Historic Site is located at 3650 Historic Sully Way, Chantilly, Virginia. For more information, visit Sully Historic Site or call 703-437-1794.