UPDATE: Cub Run Snowflake Trail will remain open until Feb. 28, 2022!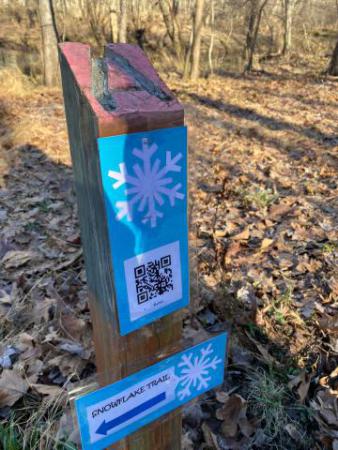 The Fairfax County Park Authority is once again offering a free scavenger hunt with video clues in the Cub Run Stream Valley. Evergreen Icicle (Ranger Icy to his friends) is here all the way from the North Pole, learning about animals in Virginia. It is your job to find the presents Ranger Icy has picked out for the animals as you walk through the forest behind Cub Run Rec Center. Videos at stops along the trail lead you to your goal and teach you about the animals in the woods, maybe even in your own backyard.
It's another safe, outdoor, family fun adventure from the Park Authority. At Cub Run, visitors follow a trail of clues by scanning QR codes with a smart device to find out about the gifts the animals are receiving. QR codes can be scanned by opening the camera on most devices and pointing it at the code. Snowflake markers along the path guide you to each clue.
Snowflake Trail starts at a kiosk at the Cub Run Rec Center circle just across from the center's main entrance. It follows a loop trail through forest and other habitats back to the center's parking area. The trail, on both paved and mulched surfaces, is just less than a mile long and features 13 stops total. No Rec Center entry pass is needed to participate. You can view a map of the trail here. 
Snowflake Trail opened Saturday, Dec. 11, 2021. The trail will stay open until Monday, Jan. 31, 2022. Parking is available in the Cub Run Rec Center parking lot. You can watch the introductory video on the Park Authority YouTube channel. Find us on social media @fairfaxparks, and post a photo of you finding all the clues – be sure to tag #rangericy and #fairfaxparks!
Cub Run Rec Center is at 4630 Stonecroft Blvd. in Chantilly, Virginia. For more information, call Cub Run at 703-817-9407; or visit Cub Run Rec Center.