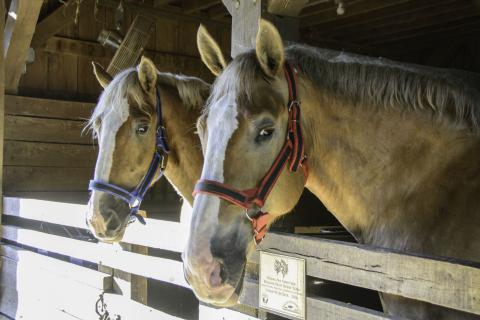 Fairfax County Park Authority officials are warning visitors against feeding the farm animals who live at Frying Pan Farm Park in Herndon, Virginia.
"We're alarmed by an increase in visitors trying to feed farm animals. This is dangerous for the farm animals, and can lead to illness, disease and death," Frying Pan Farm Park Manager Yvonne Johnson said.
The park is home to some 100 animals. The park has a working farm that includes live horses, cows, pigs, sheep, chickens and goats. Visitors are invited to observe the animals through the fences and near the barns that house them. However, park staff have noticed more visitors ignoring the many signs posted around the farm that warn against feeding the animals.
Farmer Paul Nicholson said, "It's a myth that pigs and goats can eat anything. There are a number of everyday plants that can kill them, or make them very, very sick. Even with certain proteins that are common for other animals to eat, it's actually illegal to feed them to goats or pigs."
Park officials said that the farm's cows, sheep and horses are also at risk of being harmed by visitors.
"Animals don't have the same digestive systems as humans," Johnson said. "Some foods that are harmless to you and me can clump up in the animal's intestines and cause blockages that lead to illness and death."
"Even foods that are natural for the animals to eat can become a problem if the animals are overfed," Nicholson said.
Frying Pan has one of the last working farms in Fairfax County. It's one of the most popular sites of the more than 400 parks operated by the Fairfax County Park Authority. Before the pandemic, the park attracted more than 700,000 visitors per year. Even during the pandemic, thousands of families have found Frying Pan to be a quiet getaway, where they can experience nature on a 135-acre historic property.
"This farm has been a treasure to generations of residents throughout the region, and we want to keep it that way," Johnson said. "We need the public to help. We're asking guests to respect the animals and leave their feeding to the professionals trained to care for them."
Please help us keep all the animals at Frying Pan Farm Park safe and healthy by following Fairfax County Park Regulation 1.05 C. Feeding Domestic Animals: No person shall feed any domestic animal, other than an animal under his or her own care, within a park unless such feeding is expressly authorized by the Park Authority by a posted sign or in writing.
Frying Pan Farm Park is located at 2709 West Ox Road, Herndon, Virginia. It is open from 9 a.m. to 5 p.m. Monday through Sunday. There is no charge to visit the farm or explore the park. For more information, call 703-437-9101; or visit Frying Pan Farm Park.