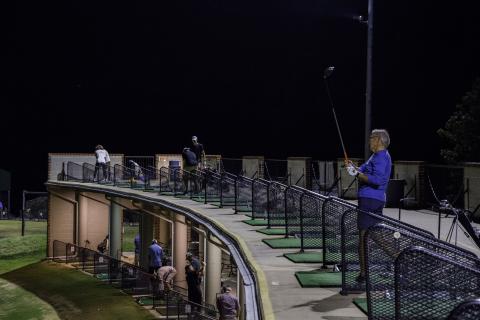 Two of Golf Fairfax's renovated ranges were recognized in the Top 50 Public Ranges by Golf Range Magazine, a publication of the Golf Range Association of America (GRAA) and the Professional Golf Association (PGA).
Oak Marr Golf Complex's newly renovated range, featuring 78 lighted stations, 30 covered and heated stations, was honored for the first time; and this is the third year running that Burke Lake Golf Center has been honored for its fully renovated facility. Both are owned and operated by the Fairfax County Park Authority.
Each year GRAA recognizes the teaching professionals, public, private and stand-alone ranges that have stood out.
GRAA considers the number of range visitors, new social celebrations, special events, marketing campaigns, and this year, adaptation and operation during a pandemic. Noted in the recognition:
State-of-the art facilities and amenities that allow for year-round play.
Dedication to growing the game through safe, socially distanced outdoor programs for all player levels, including juniors and women.
Effective community outreach efforts and cross promotion.
Successful marketing campaigns, including email marketing and targeted, paid social media campaigns, promotion of Park and Play Safety guidelines, and efforts to attract new golfers. Also recognized were promotions of the Black Friday pass sale, resulting in an 85% increase in pass sales.
The ranges welcomed a record number of golfers in 2020. Burke Lake and Oak Marr Golf offer golf instruction and practice opportunities for all levels of play.
Visit the Park Authority Golf Practice Facilities website for more information.
Burke Lake Golf Center is located at 6915 Ox Road, Fairfax Station, Virginia. Oak Marr Golf Complex is located at 3136 Jermantown Road, Oakton, Virginia.