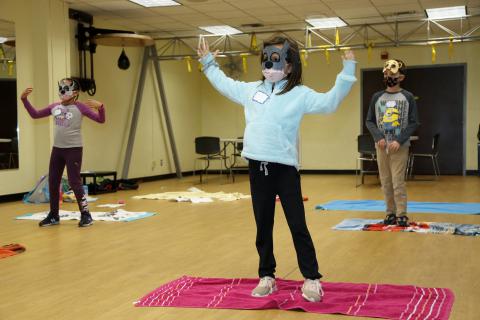 Can't wait for summer? You don't have to wait. Registration for spring break and summer camps is now underway. Voted as one of Northern Virginia Magazine's Best Summer Camps for several years in a row, the Fairfax County Park Authority offers more than 1,000 summer day camp options at dozens of convenient locations. Camps held at RECenters, nature centers, historic sites, lakefront parks, golf courses and schools offer a variety of camp formats throughout Fairfax County. These camps feature plenty of fun, friendship building and provide a safe summer experience for children ages 3 to 17.
Last summer, more than 1,000 kids enjoyed virtual summer camps from home. This summer we are looking forward to returning to in-person camps, plus continuing our virtual camps. From traditional crafts and games to high-tech fun, the Park Authority has something for everyone including swimming, sports, golf, fishing, boating, biking, STEM, chess, sewing, cooking, business or leadership. New, exciting camps available in 2021: Eco Warriors, Natural Scientists, Roblox Coders, YouTube Content Creators, ACTION!, Aloha Adventure: Theater camp, Crazy Chemworks, NASA Academy of Future Space Explorers, Pirates Cove STEAM Camp, Summer Games 2021, Money Matters, e-Sports and Agility & Strength Training.
Safety is our top priority and all of our camps follow guidelines established by the local Health Department, the Centers for Disease Control and Prevention, and the Virginia governor's orders. You will notice some changes to the daily camp routine to promote safety for everyone. Camp sizes are limited so children stay with the same group throughout the day. Children are to maintain social distancing and wear face coverings and frequently wash their hands. Staff members clean surfaces and equipment throughout the day. Likewise, our virtual camp providers maintain the same high standards of their traditional camps with a focus on industry standards in online safety and privacy protection.
Visit our Camps website to explore camps with the 2021 FCPA Spring and Summer Day Camps Guide. Or download the Summer Camp Spreadsheet to quickly sort by location, age of children, and type of camp. Then copy the Catalog ID to the My Summer Camp Planner Sheet.
In-person camp spaces will be limited this summer, so registering early is recommended. Early-bird registrants for summer camps by May 14, 2021, and for Spring Break camps by Feb. 19, 2021, receive $8 off each camp session.
For more information, call the registration hotline at 703-222-4664 Monday through Friday, 9 a.m. to 4 p.m. You can register with confidence knowing that should camp offerings change due to a change in COVID-19 restrictions, you can receive a full refund for any camp.