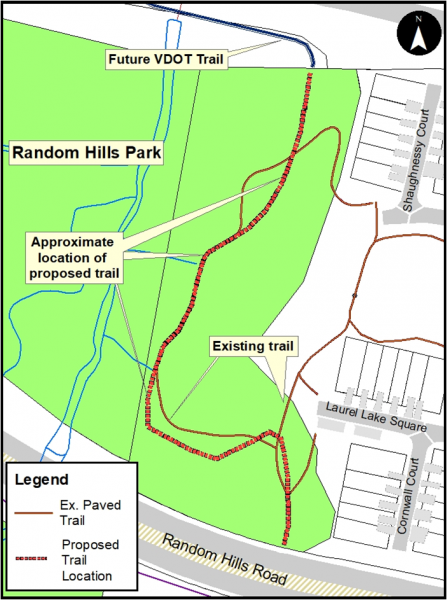 The Fairfax County Park Authority (FCPA) is seeking public comment on the design of a planned trail improvement project in Random Hills Park, located off Random Hills Road in Fairfax, Virginia.
The Park Authority is planning to improve approximately 1,000 linear feet of asphalt trail in Random Hills Park as part of the I-66 Trail/Transform I-66 project. The project will connect the Virginia Department of Transportation's (VDOT) proposed trail along Interstate 66 with the existing trail network within Random Hills Park to Random Hills Road. Construction access will be from Random Hills Road and Route 50. The project will be designed and constructed to the Americans with Disabilities Act (ADA) standards, so that it may serve both pedestrians and cyclists of all abilities.
The trail will be constructed entirely on Park Authority property and will extend through the park on the eastern side of Difficult Run. To limit the impact to natural resources, the trail will follow the path of the existing trail as much as possible. All relevant county, state and federal permits will be obtained for any potential impact. In addition, the Park Authority will perform an archeological investigation of the area to assure that no cultural resources are affected.
FCPA welcomes comments you may have on this project before finalization of the design. Information about the project, including drawings can be found online at the Random Hills Park Trail Improvement Project website. The public comment period for this application will close on March 25, 2021.
For more information, contact Amy Linderman, FCPA Project Manager, at 703-324-8629 or Amy.Linderman@fairfaxcounty.gov. Comments can be emailed to Parkmail@fairfaxcounty.gov.