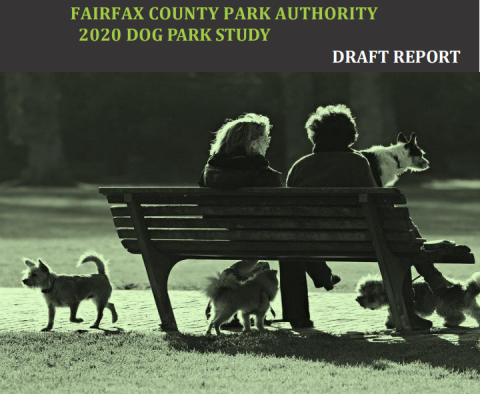 The Fairfax County Park Authority (FCPA) will hold a virtual public meeting on Tuesday, March 23, 2021 at 7 p.m. to present the study findings and gather public comment on the Dog Park Study Draft Report. Meeting registration information and instructions to access the meeting can be found at Dog Park Study website. You need not register to attend virtually.
The Park Authority initiated a study of dog parks in Fairfax County in 2019. The purpose of the study was to assess needs and priorities for dog parks throughout the county, and to adopt strategies for long-term planning, development and management of dog parks.
Public feedback was critical in the development of the draft report and continues to be an important component of this study. The Park Authority conducted a dog park survey, which was open from November through December 2019. More than 4,600 persons participated in the survey. The purpose of the survey was to collect information from the public to better understand use, concerns and future needs for dog parks in Fairfax County.
The virtual public meeting will include a presentation of the study's findings and recommendations followed by a public comment period. Participants will be able to provide comments through the online meeting platform or by phone. Instructions for accessing the meeting and participating are provided on the meeting registration page. Additionally, a recording of this meeting will be made available following the live event.
The draft report is now available for review and comment through the Dog Park Study website. Comments will be accepted until April 23, 2021. Public comments may be provided via Parkmail@fairfaxcounty.gov or through the comment box on the Dog Park Study website.
For more information you can contact Public Information Officer Judy Pedersen at 703-324-8662 or via Parkmail@fairfaxcounty.gov.