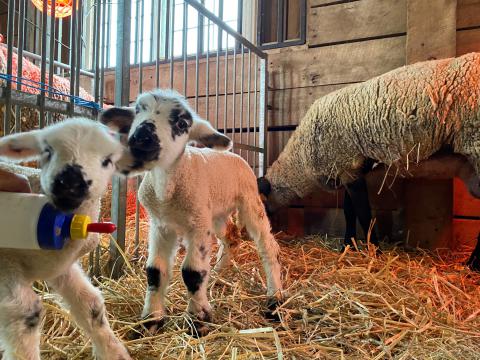 Spring is birthing season, and the public is invited to meet scores of baby farm animals at Frying Pan Farm Park in Herndon, Virginia. The largest number of newborns are expected to arrive from March to May 2021.
Up next: our Angus cow from Virginia Tech, Hokie, will deliver her calf late this month or in early April. In 2020, Hokie gave birth to a bull calf named Skipper. Both mother and son competed in the NASCOW race held at Frying Pan Farm Park in October.
In April, Frying Pan will be one big maternity ward, with cows, goats, sheep and pigs all giving birth one after the other. In the first part of April, deliveries are expected from sheep London and Bristol, goats Penelope and Stella, and Pattie the pig.
"The sheep and goats typically have one to three babies at a time; the sow could have as many as 12 piglets in her litter," farmer Paul Nicholson said.
Pattie's fellow swine Thelma is due in mid-April. She'll be followed into motherhood by another sow named Ariat, and by cows Rain and Helene. From mid-May to mid-June, a cow named Florence and the pigs Hazel and Taylor will welcome their offspring to the farm.
After the births, the babies are carefully monitored for several days to make sure they're feeding properly and getting stronger. Once they're thriving, and depending on the weather, the farm staff put the babies with their mothers where the public can see them. Currently, visitors can look at lambs and piglets that were born in February.
"We generally have the babies out during the warmest part of the day," Nicholson said.
There's no fee to visit Frying Pan Farm Park or observe the almost 100 animals on its working farm. The Park Authority reminds visitors that it's against regulations to feed any of the animals.
The farm is open from 9 a.m. to 5 p.m. Monday to Sunday and is located at 2709 West Ox Road in Herndon. Additional information is available at 703-437-9101 or at Frying Pan Farm Park. Photos of the farm's newborn animals can be viewed at Frying Pan Farm Park's New Arrivals website.