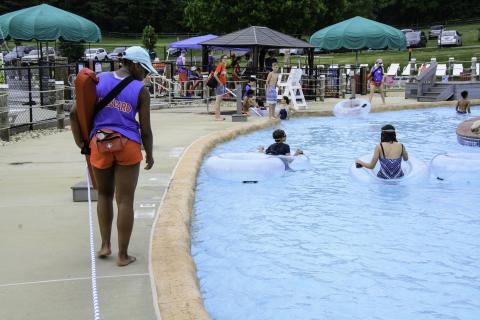 Do you want to get paid to work on your tan, make friends, and have fun all summer? We have the job for you – come get paid to play at the Fairfax County Park Authority's (FCPA) premier water park, the Water Mine Family Swimmin' Hole. FCPA is now hiring to fill over 200 seasonal positions for the upcoming summer.
No prior experience or certifications are required to apply. Lifeguard training, job-specific training and uniforms are provided free of charge. Current employment opportunities include lifeguards, park attendants, security and leadership staff.
Prerequisites for the lifeguard certification course are:
Swim 50 yards continuously using a front crawl or breaststroke.
Retrieve a 10-pound dive brick from a depth of 5 feet.
Swim a minimum distance of 10 feet underwater.
Successfully get out of the pool at the pool's edge without using a ladder, steps or ramp.
The Virginia Department of Health (VDH) and Fairfax County Health Department (FCHD) have confirmed FCPA lifeguards function as "EMS extenders" and are categorized in Phase 1A for COVID-19 vaccinations. Upon successful completion of the Lifeguard certification class, FCPA lifeguards will have the opportunity to preregister with the FCHD for COVID-19 vaccination scheduling.
Pay for these positions is competitive, starting at $9.40 per hour for park attendants, $10.40 per hour for lifeguards, and $12.50 per hour for security. Persons 15 years and older are eligible to apply for park attendant and lifeguard positions. Applicants interested in applying for security positions must be at least 18 years old to apply.
The Park Authority and Water Mine are taking the following precautions to safely hire during the COVID-19 pandemic. During the hiring processes, FCPA will be holding virtual information sessions, virtual open hires, and virtual interviews. If selected for hire, future employees will complete paperwork at home or socially distanced for dropoff. In the workplace, we require employees to wear a face covering, remain socially dis-tanced when possible, adhere to regular temperature checks and fill out daily employee self-assessments.
To view additional job details and to apply, visit the Water Mine Family Swimmin' Hole employment website.
A list of current Park Authority job openings can be found on the Jobs and Internship website.
For more information, contact the Public Information Office at 703-324-8662; or send an email to parkmail@fairfaxcounty.gov.