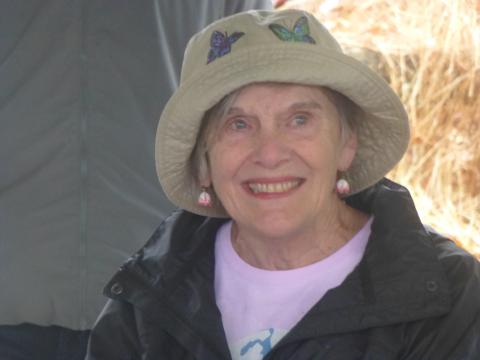 A dedication ceremony will be held at Lake Accotink Park on Saturday, April 17, 2021, for the new Margaret Kinder Education and Pollinator Garden. Members of the public are invited to attend in person or via livestream at 10 a.m. Due to COVID-19 restrictions, only limited in-person reservations will be taken on a first-come, first-served basis. Reservations can be made at https://www.surveymonkey.com/r/SM3F3KN. Those who cannot attend are invited to watch the livestream.
To access the livestream, visit the Friends of Lake Accotink Park's (FLAP) Facebook page on the day of the event. The link will also be available at the FLAP website. Information will be posted before the 10 a.m. start time.
This ribbon-cutting will feature remarks by members of the Board of Supervisors, the Park Board and members of FLAP, as well as the unveiling of the garden's new interpretive sign and highlighting of the plaque in honor of Margaret Kinder. Ms. Kinder's plaque was previously installed to recognize her decades of service as an educator, naturalist, gardener and volunteer at Lake Accotink Park and the Ravensworth Farm community.
The pollinator garden, which was sponsored and installed by the Friends of Lake Accotink Park, boasts more than 800 plants of 14 varieties. Signs identify plants and provide information on the types of pollinators they attract – birds, bees, butterflies and/or hummingbirds. Pollinators are attracted to the plants for food, and while they feed, they help to spread pollen, fertilize and disperse seeds. Without pollinators, we wouldn't have fruits, nuts and some vegetables.
Look for the Margaret Kinder Education and Pollinator Garden near the park's large Lake Shelter. The garden has been designed to enable classes on planting and maintaining your own pollinator garden. Keep an eye out for the upcoming classes and watch this garden as it will be blooming throughout the growing season, from wild columbine and goldenstar in early spring to late-summer bloomers, such as little bluestem, white wood aster and short-toothed mountain mint.
Lake Accotink Park is located at 7500 Accotink Park Road, Springfield, Virginia. For more information about the park, call 703-569-3464; or visit Lake Accotink Park.
For more information about the dedication ceremony, contact the Public Information Office at 703-324-8662; or send an email to parkmail@fairfaxcounty.gov.