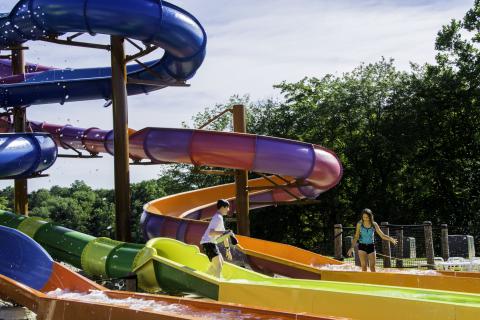 We're hiring lifeguards! The Water Mine Family Swimmin' Hole is hiring more than 150 lifeguards for the upcoming summer. Come out to The Water Mine for a drive-thru and socially distanced open hire event. Job seekers will have the opportunity to interview from their vehicle or socially distanced outside. Applicants could potentially be offered a job on the spot and will be able to complete hire paperwork the same day.
Drive in or walk up to the Water Mine, located at 1400 Lake Fairfax Drive, Reston, Virginia, on any of the following days: 
Friday, May 7, 2021 from 4 p.m. to 6 p.m.
Saturday, May 8 from 10 a.m. to 4 p.m.
Sunday, May 16 from 10 a.m. to 4 p.m.
Monday, May 24 from 4 p.m. to 6 p.m.
Monday, June 7 from 4 p.m. to 6 p.m.
To complete hire paperwork, please bring your original Social Security card AND an unexpired photo ID (Such as driver's license/permit, passport or school ID). Copies will not be accepted.
Lifeguards must be 15 years old or older to apply. No prior experience or certifications are required to apply. Lifeguard training and uniforms are provided free of charge.
Prerequisites for the lifeguard certification course are the ability to:
Swim 50 yards continuously using a front crawl or breaststroke.
Retrieve a 10-pound dive brick from a depth of 5 feet.
Swim a minimum distance of 10 feet underwater.
Successfully get out of the pool at the pool's edge without using a ladder, steps or ramp.
Can't make it to the open hire? Apply now at the The Water Mine Family Swimmin' Hole website.
For information, contact the Water Mine at FCPAWaterMine@fairfaxcounty.gov; or call 703-246-5933.