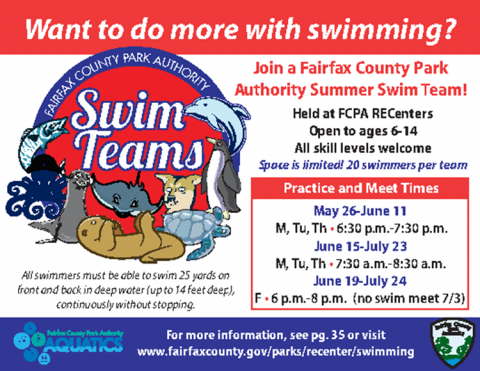 Do your kids want to make a big splash this summer? Get them involved in Fairfax County Park Authority Summer Swim Teams! Children from age 6 to 14 who can swim 25 yards on both front and back in deep water are invited to become a RECenter swimmer.
"Swimming is a wonderful, lifelong leisure activity, and our new summer swim teams are a great way to reinforce what they've learned, get some exercise and have fun," said team coordinator Betty Cook. "We want kids to experience friendly competition and have fun."
The summer swim team season will run from early June through July and teams will be led by USA Swimming certified coaches. Practices will be held Monday, Tuesday and Thursday from 6:30-7:30 p.m. Swimmers will enjoy the challenge of racing at five Friday evening swim meets held at area RECenters. Space is limited to 20 swimmers per team, and each of our nine RECenters will be fielding teams.
The registration fee includes 23 practices, five Friday evening swim meets, team swim cap and T-shirt, and an end-of-season party. Sign up now to reserve a spot for your kids. Parents will be invited to a meeting to go over all the specifics and applicable COVID-19 precautions before the start of practice.
For more information, visit the RECenter Aquatics and Swimming website.