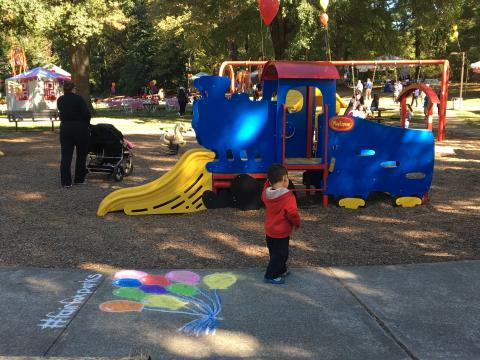 The public is invited to attend a public information meeting about the McLean Central Park Development Concept on Monday, May 24, 2021, at 7 p.m. The meeting will be held online so that members of the public can participate safely and conveniently from their own homes. You can watch the meeting at www.publicinput.com/McLeanCentralPark, or listen by calling 855-925-2801 and entering the access code 2881. Preregistration is optional and not required.
McLean Central Park, located at 1468 Dolley Madison Blvd., is a 28-acre public park adjacent to the McLean Community Center and Dolley Madison Library. This popular park contains a variety of natural spaces and active recreation areas, including tennis and basketball courts, playgrounds, and trails to serve the community.
In 2013, after an extensive planning and public engagement process, the Fairfax County Park Authority Board approved a revision to the McLean Central Park Master Plan. Park Master Plans are long-range documents that provide a conceptual vision for a park and how it serves the community. Now that funding is available, the Park Authority plans to develop new facilities at the park in conformance with the 2013 Master Plan Revision.
As guided by the 2013 Master Plan, potential facilities at the park include an amphitheater, parking lot, a dog park, passive seating areas, a bridge replacement and improvements to the park's trail network. A timeline for construction will be developed later in the design process.
Park Authority staff will present a development concept and will be available to answer any questions from the public.
For more information, please visit the project webpage; or contact the Public Information Office at 703-324-8662 or via Parkmail@fairfaxcounty.gov.