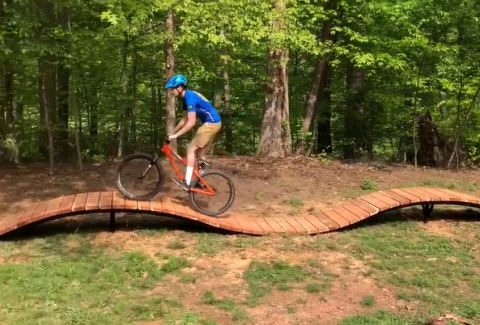 A ribbon-cutting ceremony has been scheduled for June 12, 2021, at 1 p.m. for the new Brookfield Park Bicycle Skills Area in Springfield, Virginia.
This new installation surrounds the existing pump track and is suitable for bicyclists of all ages. It includes six professionally built, low-maintenance wood and steel features that provide new cycling challenges and opportunities. The project was led by TrailsforYouth.org (TYO) in partnership with the Fairfax County Park Authority (FCPA), Springfield Civic Association, Mid-Atlanta Off-Road Enthusiasts (MORE) and local businesses.
"This is an exciting additional element that enhances the existing pump track at Brookfield. It will provide youth from our wonderfully diverse community accessible safe and fun biking opportunities for decades to come," said Julie Childers, TrailsforYouth.Org executive director. "We are incredibly grateful and humbled by the outpouring of support."
The project is the culmination of more than a year of planning, coordination and fundraising with community stakeholders. TYO secured funding through local support from the Springfield Civic Association, MORE, TYO sponsors The Bike Lane and Advanced Auto Tech, an FCPA Mastenbrook Volunteer Matching Fund Grant, and countless local family donations. In addition, they received national funding support from Specialized Bicycles' Outride Foundation and International Mountain Bike Association Dig-In grants. This expanded bicycle skills area will provide additional biking opportunities to the youth and families of the John Lewis High School pyramid and the local mountain bike community.
"This new feature is a welcome addition to the existing recreation opportunities available at Brookfield Park. I am thrilled to see the success of this community-driven partnership between TrailsforYouth.Org and FCPA," said Rodney Lusk, Lee District Supervisor. "This project will provide years of new bicycling opportunities for the Springfield community."
Brookfield Park is located at 7417 Floyd Ave., Springfield, Virginia, and the new bicycle skills perimeter area is located in the field behind the basketball court.
For more information, contact the Public Information Office at 703-324-8662 or at parkmail@fairfaxcounty.gov.
.