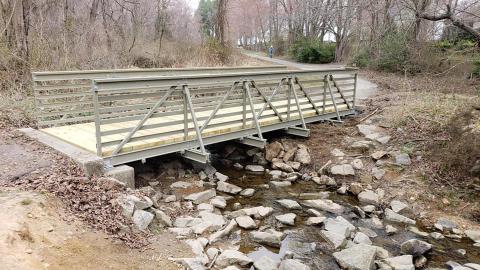 The Park Authority will celebrate National Trails Day on June 5, 2021, with a ceremony to mark the opening of the new pedestrian bridge along a trail in Smokewood Park, south of Whitacre Road in the Olde Creek section of the Braddock District.
A damaged steel bridge was removed earlier this year to allow for the installation of the new prefabricated fiberglass structure and related work. Braddock District Supervisor James Walkinshaw said, "As we emerge from the COVID-19 pandemic, we do so with a renewed appreciation for the parks and trails that have sustained us throughout this difficult time. That's why I'm so excited about the new Smokewood Park Bridge and appreciative of the partnership between the community, the Park Authority and my office that made it happen."
The official ribbon-cutting ceremony for the new Smokewood Park Bridge will begin at 10 a.m.
The $62,000 project was funded via a combination of tax dollars and proffer funding. The trail provides recreational opportunities for the community, as well as commuter connections to Olde Creek Elementary School and Woodson High School.
With more than 330 miles of trails in Fairfax County parks, a walk in the woods, along a river, by a lake or through a wetland is never far away. Join in the National Trails Day celebration by finding just the right trail for you and your family. Visit the trails page on the Park Authority's website or consult Fairfax County Trail Buddy.
For more information, contact the Public Information Office at 703-324-8662 or at parkmail@fairfaxcounty.gov.