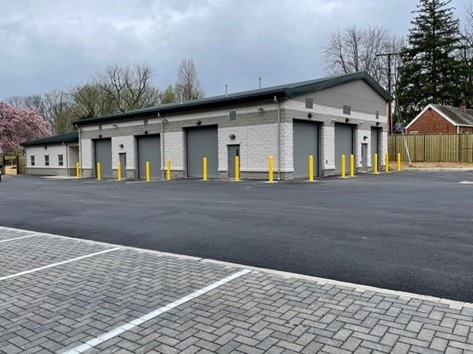 The Fairfax County Park Authority has opened a new Area 1 Maintenance Facility at Pimmit Run Stream Valley Park to better meet current and future maintenance needs.
The project involved the demolition of three aging maintenance buildings, the relocation of two storage sheds on site, and construction of a new one-story 7,500-square-foot maintenance building. The old facilities needed to be replaced because of such issues as leaking roofs, building flooding and cramped rooms. A more efficient use of the buildings and site also had to be found to accommodate plans to consolidate work and staff members from the Area 1 and Oak Marr maintenance shops. Under the plan, staff at the Area 1 Maintenance Facility will increase from 11 merit and two seasonal employees to 20 merit and up to four seasonal employees.
This $4.6 million project was financed through the voter-approved 2016 Park Bond. The work also included construction of an underground stormwater maintenance facility, relocation of an existing above-ground fuel tank on site, and the resurfacing and expansion of the parking lot to accommodate 26 vehicles, nine trailers and five trucks. In addition, the security fence was replaced, the driveway to existing community buildings was resurfaced, and plants were added to create a vegetative buffer.
For more information, contact the Public Information Office at 703-324-8662 or at parkmail@fairfaxcounty.gov.