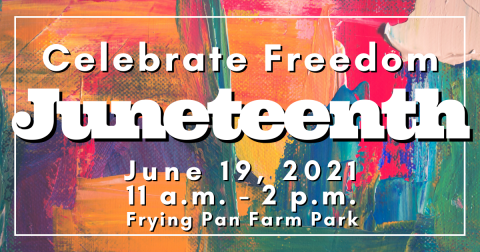 Families are invited to celebrate Juneteenth at Frying Pan Farm Park on Saturday, June 19, 2021 from 11 a.m. to 2 p.m.
This event is free and open to the public, but to make sure there's enough food for everyone, sign up online in advance.
Register for Juneteenth at Frying Pan Farm Park
Although President Abraham Lincoln issued the Emancipation Proclamation in 1863, it took more than two years for all enslaved people to be released from slavery in the U.S. Juneteenth is a celebration of that emancipation.
Among many other things, African Americans used their new freedom to tell their own stories, make their own food, worship in their own congregations and create new musical forms. The Juneteenth celebration at Frying Pan Farm Park will offer families the chance to hear, see and sample the results of African American freedom, and enjoy hands-on activities.
Participants will also get to hear a special presentation by Dr. Kelley Fanto Deetz, author of "Bound to the Fire: How Virginia's Enslaved Cooks Helped Invent American Cuisine."
Sponsored by the Friends of Frying Pan Farm Park.
Frying Pan Farm Park is located at 2709 West Ox Road in Herndon, Virginia. For more information, call 703-437-9101; or visit Frying Pan Farm Park.