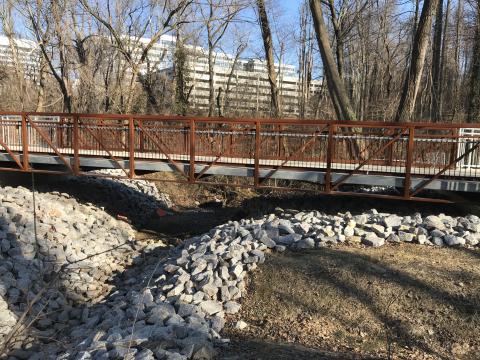 The Scott's Run Trail project in McLean, Virginia, has been named the Project of the Year for Transportation among projects under $5 million by the Mid-Atlantic Chapter of the American Public Works Association (APWA). The organization's annual awards were presented in a virtual ceremony on June 9, 2021.
Criteria established for Project of the Year consideration includes:
Good construction management
Safety performance and overall safety program
Community relations
Environmental protection
Unusual accomplishments under adverse conditions
Exceptional efforts and innovations
Sustainability
This winning project involved construction of a half-mile long, 8-foot-wide asphalt pedestrian trail and two pedestrian bridges over Scott's Run to provide direct access to the McLean Metro Station. The trail is compliant with the Americans with Disabilities Act and includes LED lighting for night use. With this trail, residents of the area have a new place for walking, jogging and fitness activities inside the developing Tysons urban setting. The trail is also designed to help reduce traffic congestion.
Mohamed Kadasi, Branch Manager, Park Authority Planning & Development Division, called the award "fantastic news for the trail team for a well-designed and constructed trail."
The Scott's Run Trail project was a collaborative effort involving the Fairfax County Park Authority, Fairfax County Department of Transportation, Fairfax County Department of Public Works and Environmental Services, Capital Facilities Utility Design and Construction Division and Urban Forestry Management, Fairfax County Land Development Services, Sagres (construction contractor), and the engineering firms of Whitman Requardt & Associates (WRA), Rummel, Klepper and Kahl (RKK), and DMY Engineering Consultants (DMYEC).
The Mid-Atlantic Chapter of APWA advances professional excellence and public understanding through education, advocacy and community stewardship.
For more information, call 703-324-8662 or email parkmail@fairfaxcounty.gov.