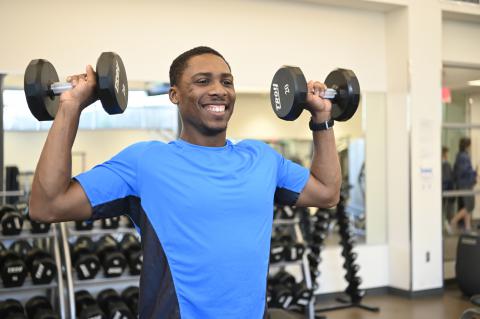 Fairfax County residents love their Rec Centers. In surveys, 9 out of 10 members say they are very satisfied with their Rec Center experience. The Park Authority maintains such a high bar of satisfaction by meeting its customer requests.
One long-standing customer request has been to have a "pay-as-you-go" option for Rec Center membership. In the past, getting a membership has always required 100% upfront payment. For an adult interested in an annual membership, for example, that might mean plunking down as much as $669 during non-sale times.
These days, a "pay-as-you-go" payment option is preferred by many, especially among younger members with tighter budgets. In response, a month-to-month membership option is now available at all nine Park Authority Rec Center locations. The traditional paid upfront annual membership will still be available for those members seeking the best value. But a new month-to-month membership choice is now available for those who want the convenience of a smaller, regular payment and the ability to cancel at any time. Under the new month-to-month membership option, a single adult would pay $26 biweekly.
Additional details on the new monthly membership option and other membership choices are available at the membership and daily admission website.
"We are thrilled to begin offering the convenience of a 'pay-as-you-go' membership option for our Rec Center members and look forward to the prospect of making our centers accessible to more Fairfax County residents than ever," Operations Manager Brian Laws said.
For more information, contact the Public Information Office at 703-324-8662; or send an email to parkmail@fairfaxcounty.gov.