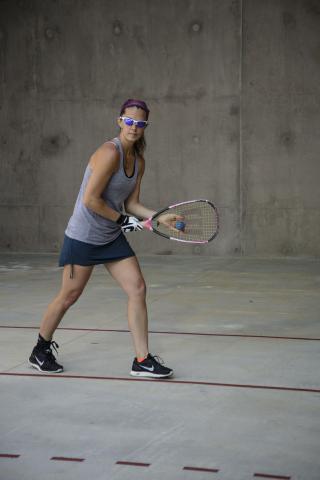 A very special opportunity to see top-caliber, nationally and internationally ranked racquetball players in action and to get on the court for some free lessons is fast approaching. If your children ages 7 to 17 love racquetball or you think they might, join in the fun on Saturdays July 24, 31 and Aug. 7, 2021 from 8:30 until 9:30 a.m. at Stratton Woods Park, located at 2431 Fox Mill Road, Reston, Virginia. This event is sponsored in part by the Ladies Professional Racquetball Tour (LPRT) and the Fairfax County Park Authority.
Park Authority Board Chairman Bill Bouie, himself a champion amateur racquetball player said of the approaching demonstrations and lessons for youth, "This is really a chance to just give a little back to the community and to share the word about a sport that is exciting and challenging. There will be no charge. We are just advancing the sport, and who better than the members of the Ladies Pro Racquetball Tour."
Racquetball is generally played on indoor courts, but outdoor courts offer a unique experience. Unlike many other sports popular today, racquetball does not have a long and involved history. Rather, it was developed early in the 20th century by combining other popular sports—tennis, handball, squash and a Spanish sport called jai alai. In America, the game first appeared in the 1920s. It was Joseph G. Sobek, a professional handball, squash and tennis player from Greenwich, Connecticut, who has most often been credited with the invention of the game. Sobek designed the rubber ball used in the game.
Joining in the fun is easy:
There is no need to sign up in advance. As many youth as possible will be accommodated.
There are no fees.
Participating teachers are Safe-Sport certified, which includes background checks. All teachers are vaccinated.
All equipment – racquets, balls and goggles will be provided. Participants do not need to bring anything.
Parents are asked to stay and watch their children during the sessions.
The LPRT is the event-driven, governing body of a growing membership of the highest level professional women players in the world. The LPRT comprises elite athletes representing more than a dozen countries, including the U.S., Mexico, Canada, Columbia, Guatemala, Ireland and Japan.
For more information, send an email to parkmail@fairfaxcounty.gov.